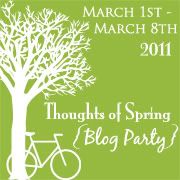 So, this is a reallyreally cool blog party I found, and I decided to join! DO IT. You have to. Not kidding. Seriously. Okay, moving swiftly along...
How would people describe your personality? (If they could only use ONE word) Are they right?
Random. Yeah, they're right. Why? Because say things at lightening speed and usually it doesn't make sense. For example, today I found myself singing: "there's a bubble for every cupcake, and each one will pop, or smear on your face or turn into lace or turn into a fairy." Yuh-huh. I'm random.
What celebrity/celebrites would create a "Star-Struck" feeling if you saw them in real life?
William Moseley, who plays Peter Pevensie in Narnia. Um, yeah, I'd die. I'd be all like: "If you haven't heard me scream that means you've been deafened or I'm in such shock that my throat won't give me the pleasure." and I'd say it all at lightning speed. But, I wouldn't jump into his arms and smother him with kisses, I'm not THAT much of a fangirl. I want to set myself apart. Besides, cute High Kings like that. Right? They better...