And now, it's time for fun-filled friday! (i STILL sound like either a kids tv show enthusiast or a game show host...*sigh*) Yesterday we had three link-ups, and now it's time to tell why your friday is fun-filled. Link-up, peoples!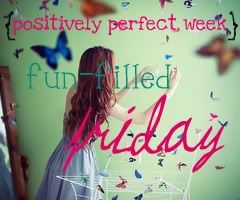 What's making MY Friday fun-filled?? Hmm....
Well, for one thing, It IS Friday TGIF (not Fez, Friday)

Cupcakes are awesome!!

My best friends might be having a sleep over

Cupcakes are awesome!!

I think we're having waffles for breakfast today! (YES)

Cupcakes are awesome!!

My sister didn't kick me in the stomach/ribs/whatever this morning!! Yeah, uh-huh, yeah, uh, uh-huh...*dance party*

Cupcakes are awesome!!

No one ate my extremely amazing lovely-happy bowl of HOMEMADE cream cheese icing. Maybe I should tell you how I made it later ;)

Cupcakes are awesome!!
Okay, I'm done. I think I'm going to co eat my icing now. With a special treat that we unfortunately ate already so I'll just eat the icing and pretend I'm having cupcakes with it...
Link-up time!! Have a fun-filled Friday :))