written yesterday.
i'm not sure what i was expecting for today: friday, the twentieth of july. i woke up to the sun reflecting off of my alarm clock that read seven thirty-nine am, and went downstairs to my creative space. the light was pooling through the blinds, the windows, any outlet you can imagine, and illuminating the downstairs so that artificial lighting wasn't needed. i logged-on to my computer, and in a moment's time, whatever plans i had for the day were changed.
to God, your life is just a
breath
. our time is different from His, and so He sees things a lot different from the way we do. i've tried to comprehend it, but it is too great a task for me, so i've long since given up.
the thing is: life goes on. it doesn't stop for anyone, it doesn't slow down, and it doesn't add a few extra hours of grace for the ones who just don't have enough time to do anything. but in the midst of this life that's going and going and going, in the busyness of times square and the bustling of the street markets, while newlyweds are making love and teenagers are attending concerts, lives end. and unless it's someone that's really close to us, or a well-known figure, we don't notice it.
this morning, just after midnight, at the premiere of
the dark knight rises
, twelve peopled stopped breathing. they were there to watch a movie, to not to any harm, and an evil arose and decided to take a perfectly sane place called a movie theatre and turn it into a massacre. all in an instant, homes were broken, hearts were shattered, and voids were created.
when i saw the articles, i tried to avoid them. i didn't want to get depressed and shut myself down into a bubble of negativity. but eventually, i just let it go. watched the news with my family. cried before i went to bed. it hurts my soul to realise that when i take a breath, insignificant as it seems, someone else takes their last.
i tried to say more on this, but the words just won't come. some things are simply too big to fit neatly into a subject, into a conversation. so i will say that everything i have goes out to the victims and their families and friends. i'm praying for all of them. even the shooter.
for now, here's a mixtape. in the midst of trial and tribulation, of angst and inadequacy, we keep calm and we carry on. remember the significance of your breathing.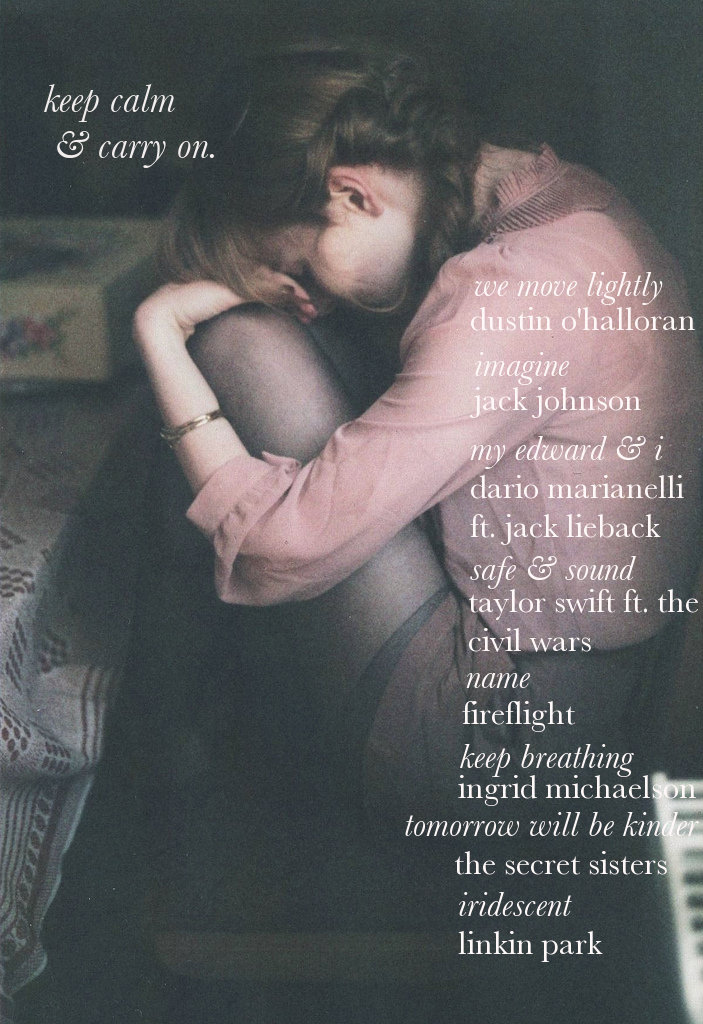 -kiss kiss kiss, keep breathing-
{pea ess: photo credit
here
.}