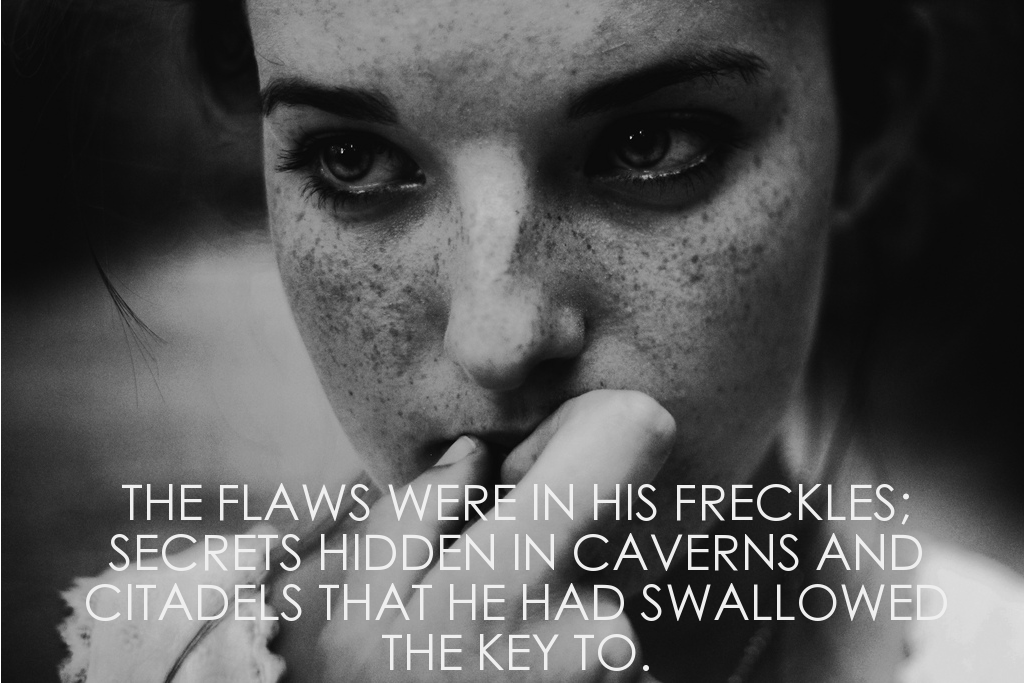 photo credit // typography by me
i figured he had to be
perfect.
his eyes, his hair,
he was so beautiful that
i thought he couldn't be from
this earth, but he was
too good to be an angel.
nothing about him seemed
wrong, out of place; he was
who he was and incandescently
unapologetic about it.
so i concluded that his
flaws were in his
freckles; secrets hidden in
caverns and citadels that he
had swallowed the key
to.
they were mostly located in
the countries called
Arms, the city called his
Neck, and a few
behind his ears that i'd
found on my
own.
so i decided i would
kiss each and every one
of his freckles, the wet touch
lingering to say "it's alright,
i don't know what you've
done, but i don't love you any
less, actually, i love you even
more," and if the world tries to
lock him up, i'll just
tell them he swallowed
the key.
so the freckles multiplied on
his body like spots
on a Dalmatian, and i
didn't kiss him to keep him
perfect, i kissed
him because i wanted
to.
bazinga.

so, i've been doing this project, called Smash365. and this is something i wrote for one of the prompts. i don't know what day it was, and i don't even remember what the prompt was. all i know is that i can't stop thinking about his freckles now. so. hope you enjoyed.

-kiss kiss kiss, peeping tom-
{pea ess: so i [finally] have a new design. can we all take a moment to fangirl over the watercolours?}