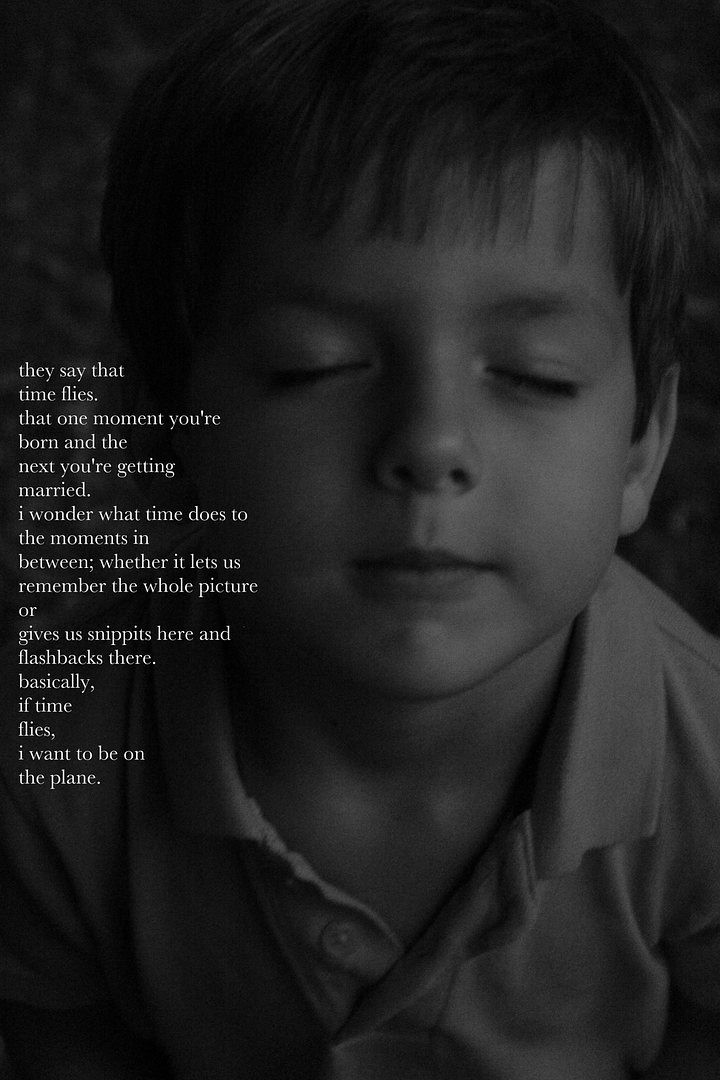 seriously, though, i remember calling my grandma on the phone at age three telling her i got three things in the mail from my other grandma. i remember her replying, saying "my! you're rich!" and continuing on with such enthusiasm.




and now, i'm fifteen years old, and i'm about to head off to my first day at community college (dual-credit classes). i couldn't be more nervous, but mom says that only means i care.

i mean, good grief. where has the time gone?
i wore a blue tropical-print maxidress, brown and white cardigan, champagne flats, multi-coloured clutch, the scent of fresh wildflowers and an imposing red and black (full to the brim) laptop bag as i stepped on the community college campus. as i observed my surroundings (a fountain and sculpture to my right, a building on the left, and fellow students all around) i felt a bit out of place with my dress and more-than-slightly bulging laptop bag. i caught a few people staring as i walked into building 4000, and fumbled around for my class schedule.
that is, of course, until i realised i didn't have it with me. fail. i had a general idea of where my classroom was, but the words of my mother kept going off in my head:
ask ask ask
. so i stopped in a nearby office, where a man, who resembled an older version of chase from
zoey 101
, sat at a desk with an iMac atop it. i confessed that i didn't know where the heck i was going, and with a reassuring smile, he led me to my proper classroom, where i found then, that he was my professor. what luck!
until the doors were opened, i sat on a bench adjacent to the off-white walls of the hallways and watched as dozens passed me by. some looked, some didn't even glance. but i didn't mind either. and because time flies by, i found myself sitting in the front row of a classroom with a blackboard and musical staffs painted in.
you are stuck with me all year,
my professor said.
what luck! i want you to know that when i say something, i am completely serious, but i will most likely have a smile on my face, because i can't help but smile.
right then, i was put at ease. his hands shook a little as he read the names off of his list, and the hour and twenty minutes it took to teach the class went by in no time, because time flies.
i have to admit, that right now, i don't mind growing up anymore. i'm sure that will change once i get my first utility bill in the mail, but for now, i like the hustle and bustle of a college campus, energy drinks on the seats next to me, and libraries that smells of crisp paper and ink. i like the fountain that spews out water and the flowers that are braving this texas heat even though august is coming to a close. and i absolutely adore the sound of beethoven in my ears as i study (moonlight sonata, a classic, of course).
date: august 27th, 2012.
time: 11:36am.
first subject: music theory.
notebook color: yellow.
pencil color: navy blue.
junior/freshman year: you're gonna love me.

-kiss kiss kiss, let's go study-
{pea ess: that cute little guy up there? that's my friend asher. i hung out with him yesterday. and he is so darn precious.}