written wednesday.
as
carlotta
said in one of her posts awhile back: "my blog is not a dumping ground." i don't want mine to be, and i have tried so hard for it not to be (though sometimes i haven't done it very well), and i don't want there to be a 'but' in this, so i will say that i will wholeheartedly try not to dump all of my personal crap in this post. however, there is something i want to tell you, so i guess i'll get started.
if you haven't read
this
, then you'll have to to understand what's going on. i don't want to repeat all of it here to spare you the trouble of reading so much, but the bottom line is: yesterday, my parents called me into their room for a conversation, and they gave a very long speech, if you will, on saying how they're for me and not against me and they love me, but they're making me go back to swimming. a positive and a negative, yes?
basically, i cried really hard. i begged my mother like a two year old throwing a temper tantrum to let me workout at the gym. develop my own sets, my own meal plan, so i could stay in shape on my own. she said she heard me, but her expression was the sort that said "i'm not listening, i'm not wavering." and i know from experience that crying isn't the way you get things, but i didn't know what else to do. i was heartbroken. i even felt a little depressed.
so that day, i went to swim clinic. for the hour that i was there, i came to the realisation again and again that i didn't belong. i wasn't one of them anymore. i didn't have the prospects they had, the goals. any goals, for that matter. i began over thinking again, immediately like i used to. there was so much stress that i didn't see a way out.
monday evening, daddy came home with the mail. among the bills were two packages, and one was addressed to daddy, as usual, but one was addressed to me, from an address i didn't recognise until i saw the name above it.
katie
.
on her blog, she made a lookbook for for a friend. i commented and jokingly asked her if she'd make me one. you know how bloggers are. and recently, i got an email saying that she'd finished a lookbook for me and she asked if i could send it. so, of course i said yes. monday evening, it arrived when everything was normal, and and since looking through it, i can't say i've possessed anything more lovely in my life. except, of course, the Word of God.
in this lookbook, there are two envelopes. one says "open when in need of inspiration," and the other says "open when in need of encouragement." since the news yesterday, i'd been very low. so i figured that this was as good a time as any to open the envelope.
there were quotes from some of my favorite authors and some that i hadn't immersed myself in before. c.s. lewis, elizabeth edwards, stephen chbosky and others. but neither of them seemed to help. they didn't seem to do it for me or relate to my situation. but there was one more slip of paper left, and with a heavy heart, i turned it over.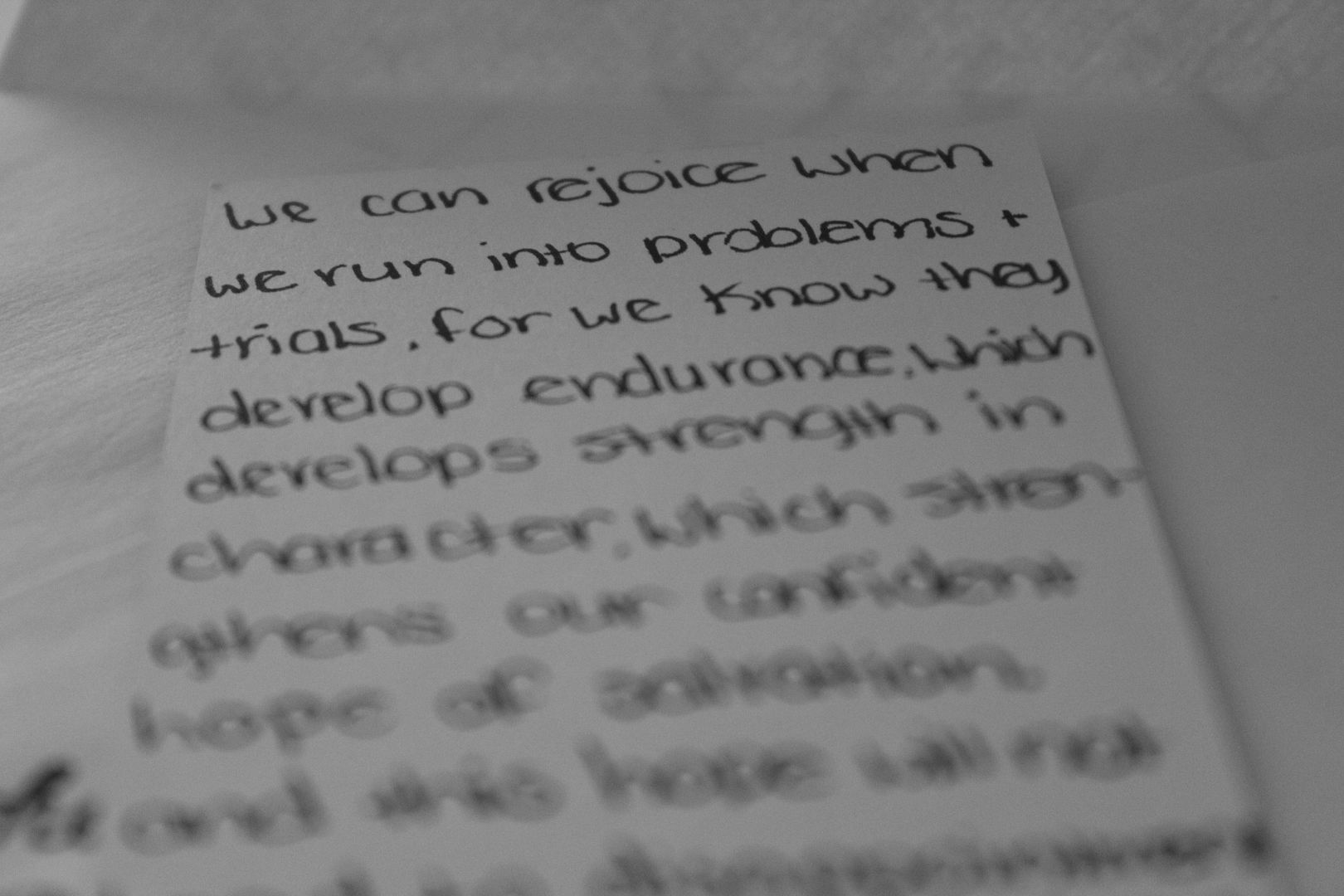 we can rejoice when we run into problems and trials, for we know they develop endurance, which develops strength in character, which strengthens our confident hope of salvation. and this hope will not lead to disappointment, for God loves us dearly.
romans 5:3-5
right at that point, i started to cry. sob. curl up into a fetal position and bawl. because that was it. that was what i needed. in her letter to me, katie said every page, every word, ever letter of what was in that lookbook meant something to her, and she hoped that it would mean something to me. and here it was, in the palms of my hands; ink stained with large, round drops of tears that soothed the irritation in my eyes.

i have to admit, i'm still worried about the next few days, and i guess i should ask for prayer, but i just wanted to say (in this little novel of mine, considering the length of this post) that there are certain people that are put in your life at the right time. and while they're there, i should hope you'll say thank you.

so here's to you, katie. go eat a cupcake.
-kiss kiss kiss, this too shall pass-
{pea ess: i like b+w, okay? don't judge me.}