song stuck in my head: "God Help the Outcasts" Hunchback of Notre Dame (saddest. movie. ever.)
I'm having a Disney moment. Yes, yes I am. I love the animation, and I grew up with Disney. I mean, c'mon, when I grow up, I'm going to make sure my children have the pleasure of seeing what I love so much. Oh, yes, yes I will.
My most favorite Disney movie of like all time is Pocahontas. I'm not sure why, but I just love that movie more than all the others. I mean, she's beautiful, she has the voice of an angel, and he's macho and muscular (and undeniably cute) And I'm actually part Native American (like 1/16th or something) so....why not?
So, inspired by Pocahontas and all the colors of the wind, I've decided to hold a photo challenge. Can you guess what it is? That's right: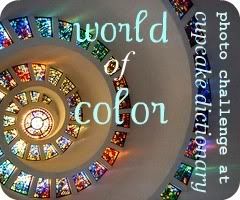 All you have to do is take a picture of something you think is colorful!! You can even enter a picture of a box of crayons, or paint :)) Here are the rules:
The picture must be taken by you.

Only one picture per person.

Have fun!!
P.S. My sister's like DYING to do this special post she has all planned out. She says it's called "According to Joy". Honestly, I have no idea she knew that word. Should I let her do it?
I'm going to go prance around the house signing Disney songs now.
Yes, yes I am.