in the midst of cold weather, i sit here at the window, drinking tea, reading
kinfolk magazine
, listening to music, and just being inspired. i watch as the leaves fall off the trees and as our friendly neighborhood squirrel gathers nuts and scampers off to his home. wearing my new white wooly sweater from grandma, and watching as my mommy reads to joy. old memories, new memories.
for the past few weeks, i've been pondering life after high school. after college, even, even though it's so far away. i want to buy a quaint old house -two story preferably- with a small library off to the side, and a porch so i can watch the neighbors walk by. really, i've been pondering on living a simple life. i'm inspired by gatherings of four or five people, whether family or friends, eating good food and playing games that we might've enjoyed as children. talking of life over a good cup of tea. going on shopping trips when the season is coming to a close and taking pictures of our experiences.
i told daddy in the car last night, on the way home from getting my hair done. i want to live a simple life. writing novels and music, of course, but also other things. like trying new things in my cookbook. seafood for example, because mommy doesn't like seafood in our house. she hates it. tilapia, maybe. with a side of mushrooms and a lemon glaze. hot tea next to it because i can drink tea with anything. maybe a piece of leftover pound cake for dessert, then retreating to the library to read the newest additions to my collection, while listening to some classic soundtracks. to me, this is leading a simple life.
it's not about the endless parties you have, or the baking excursions with best friends. or the one-thousand dollar shopping sprees to neiman marcus or that delightful new thing you saw in the bookstore today. i think it's about making memories. myriads of memories. of being able to say that was us. do you remember when we were here? instead of living a blow-through, all-over-the-place kind of life, where you can barely remember a thing. but being able to go back and instantly light-up because of that time when he spilt marinara sauce all over himself.
this morning, i am now sifting through newspapers to make my birthday party invitations, joy and mommy are going to paint, daddy is watching sports replays, and i'm here. just being inspired.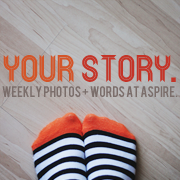 -kiss kiss kiss, hug a blanket-
{pee ess: photo challenge this wednesday.}